And now for something completely different than my last post! From bright colors to softer colors, as well as another challenge I'm trying my hand at. This card was done for the
Midnight Madness
sketch challenge #61. I've wanted to participate in these challenges for some time and now with my vacation I have some time to explore all of them and participate! Boy am I having fun!
For this card I used a sweet stamp from Great Impressions. I picked this up "free" from my raffle win at the spring stamp show here. I thought this was perfect for this sketch challenge. I colored it with my Copics and added a touch of glitter with my Sakura glitter gel pen along the flowers at the top edge of the teacups and teapot.
I also thought these papers went well together and with the finished image. The DP on the left is from Jillibean Soup called "Egg Drop Soup". The other paper on the right side of the card is "Ice Cream Parlor" from Doodlebug Design Inc.
I added some lace - newly acquired from my trip yesterday to Joann's. I've long admired the cards embellished with lace and never thought about it when I was out getting supplies - until yesterday. I am fully stocked and I love the look the lace provides so you'll see more lace from me in the future!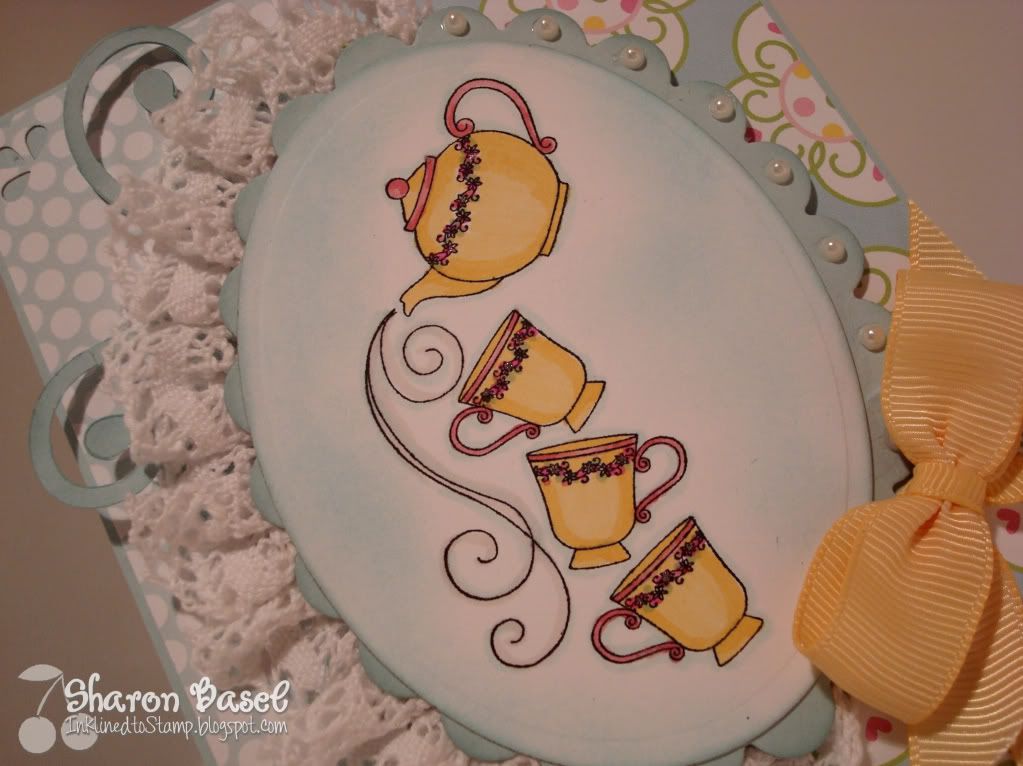 And finally, the last few embellishments to finish off the card include the Sizzlet Scribbles Swirls in Soft Sky cardstock, the half pearls along the scallops on the right of the focal image, the bow and the punched corners using my new Fiskars "Lace" three-way corner punch.
Thanks for taking time to visit my blog. I hope you're inspired by my creations - I certainly am inspired by yours!
Post edited on Monday, July 12, 2010
- I just looked on the Midnight Madness website and saw that my card "Tea Time" has received one of the Midnight Madness Remarkables awards! Double wahoo and a happy feet dance! Many thanks to the wonderful ladies on the design team for the recognition. I am so grateful and actually quite humbled - there are many very talented and creative crafters that participate in the Midnight Madness challenges. It's gonna be a great day!
Recipe:
Paper - Jillibean Soup "Egg Drop Soup", Doodlebug Design Inc " Ice Cream Parlor", Stampin Up Soft sky, Papertrey Ink Stamper Select White cardstock
Ink - Palette Noir Black, Copic Markers
Stamps - Great Impressions F360
Accessories - Lace, Nestabilities Ovals and Scallop Ovals, Sizzix Sizzlet "Scribbles Swirls", Fiskars "Lace" 3-way corner punch, half pearls, SU ribbons