This was a quicky card for a baby gift of a coworker using a couple supplies that I've been waiting to play with but haven't quite found the time until today. I'm also entering this card in the
Play Date Cafe Challenge 30
because the focal colors I've used in the card are a match for this week's PDCC. Thanks so much to Julie at
Julie's Open Window
for bringing this to my attention and getting me interested in this weekly challenge! (Need inspiration? - go to Julie's blog and see her amazing creations. They are gorgeous works of art.) Here's the link to the
Play Date Cafe Challenge blog
. And here is the inspiration for the colors specified in this week's challenge:
Now on to the card itself.....I've used PaperTrey Ink's Baby Button Bits stamp set for the main image including the "Cute as a Button" saying. Every image in that set is darling but I choose to go with the bee. The image is embellished with buttons also from PTI.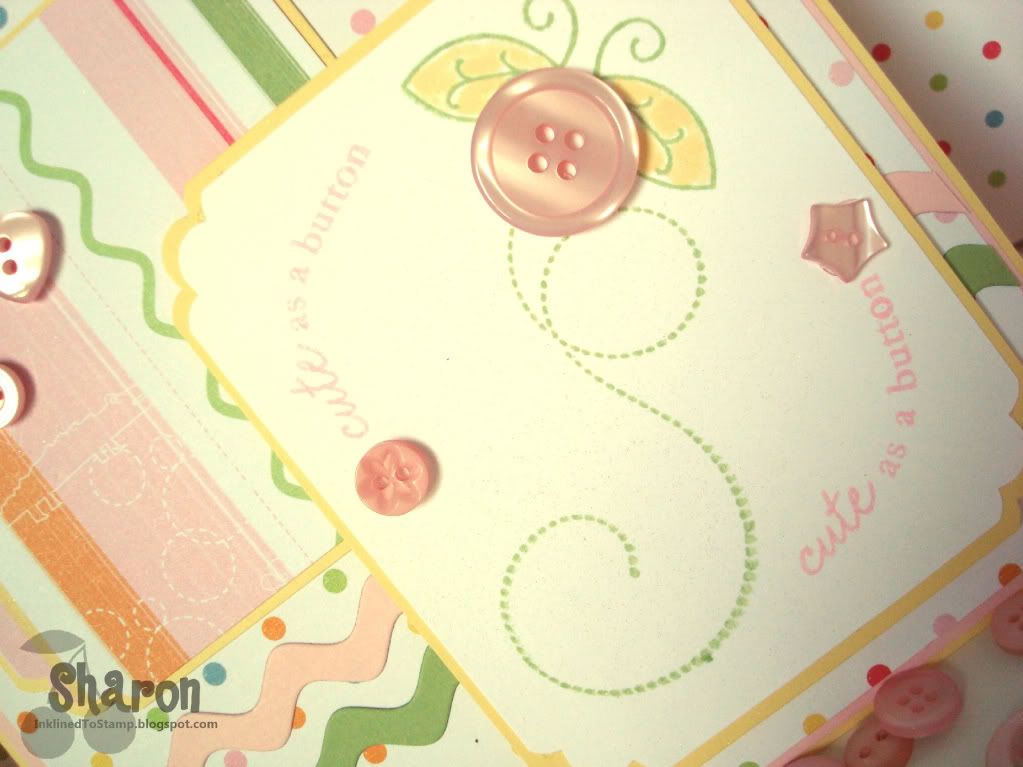 What is hard to see in the pictures is the bit of shimmer mist I sprayed on the focal image to sparkle it up a bit and to help it stand out. I haven't used my shimmer mist in awhile, but now that I brought it out I was shimmering up a storm on every card I made after this one!! After all, who doesn't like sparkles on a card?
The other new toy I used here is the ric rac die from PaperTrey. I love ric rac anyway and this die is a dream to use - cuts through paper like butter with nice crisp edges. I think it's a perfect touch for this baby card.
And finally, the DP I used is from Little Yellow Bicycle, "Baby Safari" line. The polka-dot background paper is one of my perky favorites.
Thanks for stopping by!
Sharon