Here's another baby card I recently did featuring a scrapbook paper that I just couldn't resist for a baby boy. This paper is from TaDa Creative Studios called "Green Pastures". The paper was too perfect to cover up with stamped images so I choose to use it as the focal point of the card. I also paired this with October Afternoon's "Picnic Table" chocolate and cream dotted paper.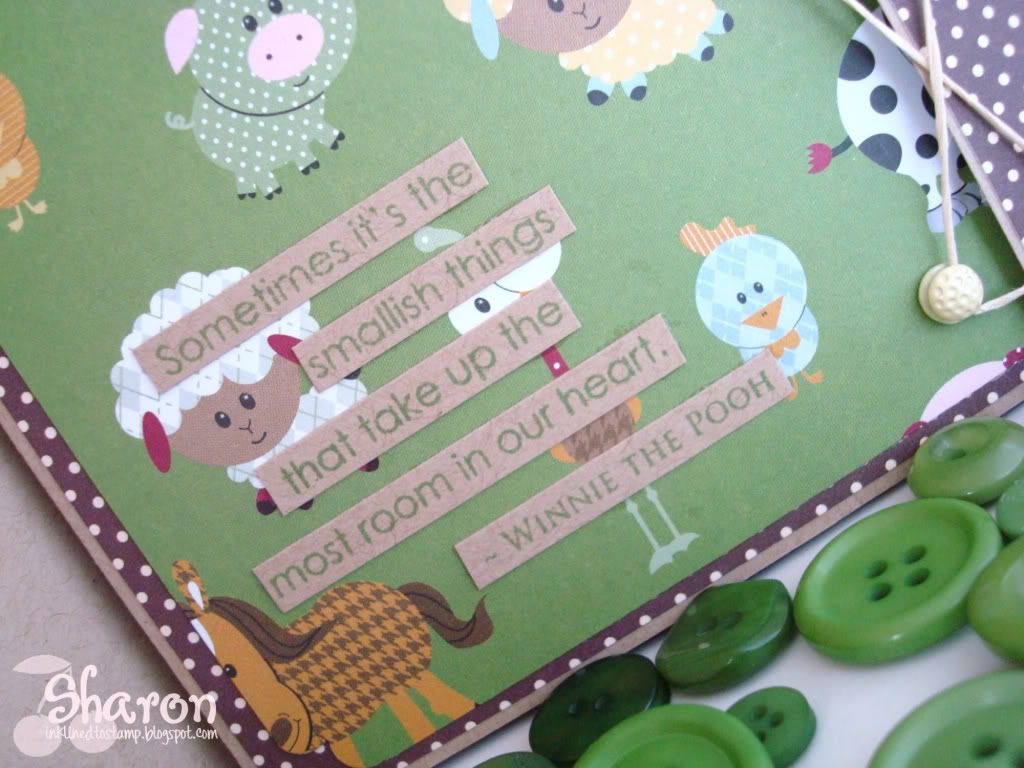 Because I wasn't adding much in the way of stamped images, I knew the layout or overall card design had to be different. So, to create that interest I made this card larger (about 5x7) and with a flap where I used some special brads specifically for "laces" like on shoes. I just used some simple natural scrapper's floss to lace the card up and keep it closed.
Also on the front panel I cut out the sentences of a stamped image from PaperTrey Ink's "Inside and Out: Baby" set and pieced it out separately so it would fit and wouldn't obstruct from the main image paper.
On the inside, I used another large panel of the "Green Pastures" DP because I just couldn't get enough of it in this card! Then made a message panel on PTI's Kraft cardstock on top of the brown dotted paper to carry the theme inside.
I think this makes a cute baby boy card - what do you think?
Thanks for visiting my blog today!
Sharon